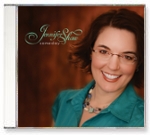 Jennifer Shaw is an accomplished Christian recording artist, songwriter, speaker, author, and worship leader whose music is on the radio across the United States and Canada. She began her musical career as an opera singer after graduating with a Master's degree in Vocal Performance from the prestigious Manhattan School of Music. She later became a Professor of Music for Cedarville University and performed with the Columbus Symphony, even appearing at Carnegie Hall. You may recognize the titles of her CDs..."Be Still" and "Love Broke Through".
Like many of us, Jennifer's life has been a roller coaster. There have been many times of great joy. But with the death of her father from ALS, the loss of a baby, and a child diagnosed with Sensory Processing Disorder, she has had pain as well. Jennifer looks at the Scriptures and God's faithfulness to her to point women to a life of purpose and meaning during and after pain.
Jennifer will share her poignant message of hope and encouragement through her personal testimony and music. We may laugh and cry as Jennifer's stories bring home to each of us the power of God's love to touch our lives. You won't want to miss hearing what Jennifer has to say and the story she has to tell through her music!
Check out her website at:
http://jennifershaw.com/